According to news sources, interracial dating across the country is having increasingly strong relationship outcomes. Today, nearly 20% of all new marriages are of those from different races. Love knows no bounds. It cannot be stopped by the color of our skin, religious faith, or background. Once you're in love, that's it! And when using an interracial dating site like SilverSingles, your chances of finding that everlasting connection increase even more.
Our interracial dating site for black and white singles, along with those of Asian, Middle Eastern, Hispanic, Pacific Island, or Indigenous descent, brings everyone together in a place where they can be themselves as they seek their next long-term partner.
SilverSingles is proud to have a large, diverse pool of members. And, with such a large community, we understand that our 50+ singles are looking for different things in a potential partner. If you're an over 50 single interested in interracial dating, then SilverSingles is happy to help you find a match who's perfect for you. Read on to learn more about our platform and how you can find those compatible with you and your preferences.
Diversity in the World of Interracial Dating
America is known for being one of the most diverse places in the world–a country full of those from other cultures. According to the United States Census, if any two people are selected at random, there's more than a 61% chance that they will be of a different race. This is one of the things we celebrate most, as certainly everyone is unique, yet we all share the same feelings of humanity.
One of the strongest feelings is love. It can overcome anything. Love can beat all odds, get you through tough times, and bring a joy to your life that's unlike any other. Interracial dating not only brings diverse lovers together to share in the brilliant light of compassion and understanding but also unites those from different backgrounds on the most fundamental level.
At SilverSingles, our interracial dating site for black and white singles and every other race, our goal is help you find your match without limits.
Unity in Uniqueness: Interracial Dating
Individualism is a wonderful thing. Each person has their own set of values and beliefs, their own appearance and personal style, and unique mannerisms that make them who they are. These very things are also the basis of relationships. Beyond romantic partnerships, our collection of qualities helps form bonds in friendship, family, and the workplace. However, when it comes to finding a life-long partner, these things become even more essential.
These things can't be defined or put into boxes based on race. They also help people form unity, and when you find someone who clicks with you, the sparks fly. Using an interracial dating site like SilverSingles allows seniors over 50 to find these connections with a swipe and tap of your thumb.
Bridging Differences and Cultivating Love
When it comes to love, your heart's capacity is limitless. It shares love for family, friends, pets, hobbies, and even your favorite cozy sweater. You find that as you age, your heart doesn't lose the ability to love more people or things; it only grows.
That's the amazing thing about love–it's never-ending. It's something that you can never be short on, especially when you begin to bridge differences with others and cultivate more passion.
Since your heart can only expand, this means when finding a partner, you aren't stuck with a small pool of others to explore as potential matches. Interracial dating sites bring everyone together to cultivate the greatest connections on earth.
Beyond Color, Boundaries, and Prejudice with Love
In the past, society didn't embrace interracial dating as it does today. Today, the world looks beyond the color of our skin, instead seeing what's deep beneath in our souls. The essence of interracial dating is based on this profound ability to love people as they are, expanding boundaries you may have once set, and overcoming prejudice of the past.
You may not know where to start when it comes to interracial dating. As a senior, you probably remember a time when the concept wasn't as accepted as it is today. You may remember a time when society put people in boxes, deeming who it was appropriate to love and who wasn't. That can be scary. But now, you can use interracial dating sites for black and white singles and more to break free of those cultural constraints to find the person who's right for you.
Interracial Dating: Find Well-Suited Matches with Us Today!
If you're over 50 and seeking an interracial dating site that works for you, then SilverSingles is the place! We're here to assist our members in finding partners with whom they can truly discover a spark. It can be hard enough finding eligible singles of a similar age, never mind adding in other preferences you have for a partner. But with SilverSingles' system of filters, as well as our in-depth personality questionnaire, we're able to match you with those who are really compatible — saving you valuable time when searching for someone you can see a future with.
We understand that having specific preferences in a partner is important to the singles on our site. After all, we often seek out friendships and relationships with those who share similar backgrounds, pastimes, and lifestyles. If you're interested in interracial dating — or meeting interracial singles — then we will endeavor to match you with those who fit your desires.
How Does SilverSingles Match You with Like-Minded Singles?
So, how does SilverSingles approach online dating? The first step is registering and taking our personality test. The questionnaire works by gathering information about you, your personality, and your lifestyle, as well as learning about the type of people you're interested in and attracted to. After you've told us the particulars, our smart matchmaking system gets to work matching you with people we believe will fit your preferences and who you have a large degree of commonality with.
To make the process as simple and stress-free as possible, we'll send you 3-7 matches per day, and from there, you can check their profiles and decide if you want to take the next step! Of course, if you prefer to find your own matches then you can also look through our members' profiles at your own leisure — or try a mixture of both.
Read more: Dating in DC? Discover 50+ dating in the United States Capitol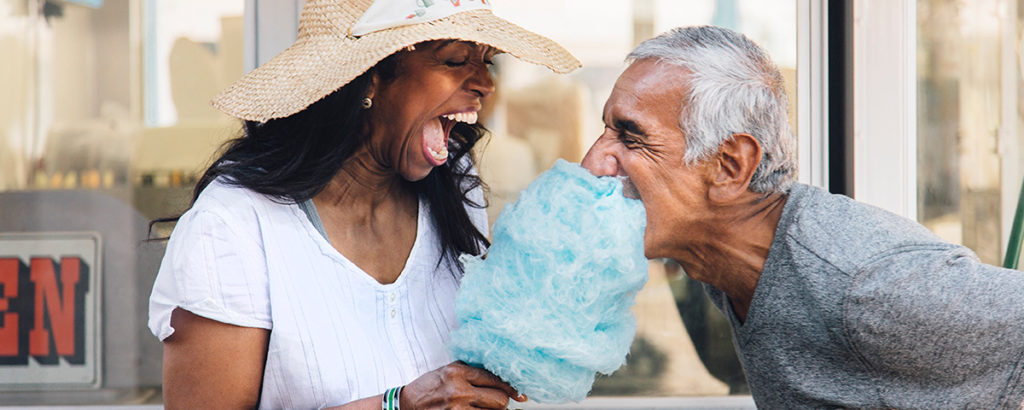 Let Us Make Your Interracial Dating Journey Easier
SilverSingles' strengths lie not only in our ability to match you with people you want to date — whether that's interracial singles or perhaps meeting your soulmate — but also in our dedication to making the process as simple and successful as possible. Did you know that 17% of marriages in America are between interracial couples? This is a huge jump from 3% in 1967. Society as a whole has become more accepting and progressive over the years, giving love a chance to flourish regardless of racial, cultural, or societal lines.
For those who lead busy lives, we've made sure our platform can be easily accessed. This means you can peruse our website on both your computer or mobile browser or via our dating app. Available for both iOS and Android, the SilverSingles dating app contains all the most useful features of our website in one easy-to-use package that can travel with you wherever you are. Local interracial dating for men and women has never been easier, thanks to our expertly designed app with 50+ singles in mind.
As online dating specialists, we know that sometimes prospective new members have reservations about internet dating and its safety. However, to help keep the single men and women on SilverSingles as safe as possible, we have a Customer Care team who are happy to help at any stage. If you ever come across a user who you believe isn't who they say they are, or you have other security concerns, you can report it to our team who will investigate the matter.
While it might be easy enough to be matched with single men and women on our interracial dating-friendly site, we all know it's what comes next that's truly important. However, for many of our singles, jumping back into the world of dating can feel somewhat intimidating — especially for those who may have been in long-term relationships. With this in mind, we created our SilverSingles online magazine, a hub for expert dating-related content that's intended to help you on your dating journey.
Here you'll find articles with all sorts of useful tips, from how to write a great profile, to crafting an attention-grabbing first message that'll get responses. And don't worry about the steps after that! We also have advice on first date fashion, date ideas, and even articles on topics that extend beyond relationships.
We're excited to start the matchmaking process and begin introducing you to well-suited, compatible singles. So, if you're ready to start your SilverSingles dating journey, sign up now and start receiving matches today!